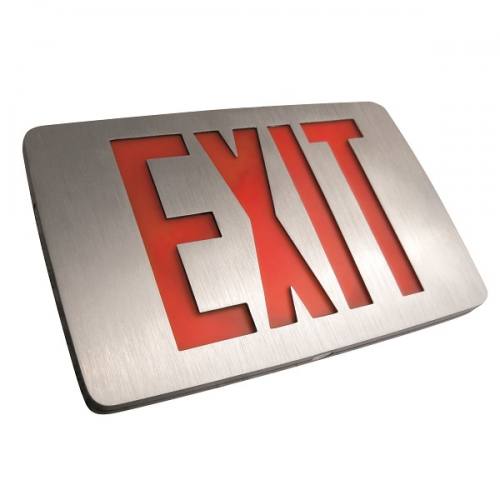 LED Exit Sign Thin Die-Cast Aluminum | Single Face
Product Description
Features
Specification-grade, low-profile thin die-cast construction.
Illumination
Ultra-bright, energy efficient, long lasting Red or Green LED.
Electrical
Dual 120V / 277V.
charge rate/power "ON" LED indicator light and push-to-test switch for mandated code compliance testing.
Long-life maintenance-free, rechargeable Ni-Cd Battery, (EM model).
Internal solid-state transfer switch automatically connects the internal battery to LEDs for minimum 90-minute emergency illumination.
Fully Automatic solid-state, two-rate charger initiates battery charging to recharge a discharged battery in 24 hours.
Mounting
Aluminum mounting canopy included for top or end mount.
Universal K/O pattern on back plate for wall mount.
Housing
Premium-grade, extruded brushed aluminum die-cast housing (also available in black or white powder coat).
Field selectable knockout chevron directional indicators.
Quick-snap face plate closure.
Specification-grade, low profile thin aluminum die-cast design.
Available specifically in single or double face only.
Warranty / Listings
Five year warranty on all electronics and housing. Battery is pro-rated for five years.
UL Listed for damp locations. (0° - 50°C / 32°F - 122°F standard).
Meets UL924, NFPA 101 Life Safety Code, NEC, OSHA, Local and State Codes.