Light-emitting diodes, or LED for short, are the best solution when it comes to lighting your home or business. They will save you money by reducing energy costs dramatically. On top of this, they typically last much longer than traditional incandescent or metal halide bulbs. This type of lighting is also safer because it less likely to catch fire or shatter. In this article we elaborate on these benefits and go over different commercial and residential lighting applications.
"According to a comprehensive research report by Market Research Future (MRFR), "LED Lighting Market information by Installation Type, by Product Type, by Distribution Channel and Region – forecast to 2027" market size to reach USD 151,951.1 million, growing at a compound annual growth rate of 18.7% by 2027." - Yahoo Finance
Save Money By Switching to LED
The first and foremost reason you're probably looking to switch to LED is the insane amount of money that you can save by doing so. You're in the right place. At Electrical Marketplace, we sell only the highest quality lighting fixtures, so you can be sure that you're getting a quality product that will last. We will make sure that you get a great return on your investment by providing you durable, quality products. Competitors may try to sell you cheaper solutions, but it is important to look at the often overlooked features of a light like it's material and L70, which is the amount of time it will take for your light's output to reaach 70% of what it was when you bought it. Don't be fooled into saving dollars per fixture on your initial investment; you will save more money by purchasing a quality fixture from us.
LED Lights Last Longer and Shine Brighter
The whole purpose of buying LED Lighting is to make sure that you're getting brighter, longer lasting lights. At Electrical Marketplace, we pride ourselves by stocking only the longest lasting LED bulbs and fixtures. Like we said before, don't be fooled by competitors that have a cheaper sticker price. You'll be losing money in the long run as those fixtures die out YEARS, yes YEARS before ours do.
Let's do a comparison on a Google Search for LED Area Lighting. We found a $120, 240 Watt fixtures that gives off 35,000 Lumens, lasting only 50,000 Hours. Compared to our 240W LEDMPAL Pro ($296.99), you may think the prior fixture is a better deal. However, our fixture has a lifespan of 372,000 Hours! That means you could buy 3 of the cheaper fixtures (spending more money on fixtures alone, let alone replacement and maintenance costs), and you STILL wouldn't even have HALF the value our fixtures provide.
Let's re-iterate: 50,000 Hours is 5.7 years, and 372,000 Hours is 42 and a half years! This could be the last light fixture you EVER have to replace!
LED Lighting is Safer Than Traditional Lighting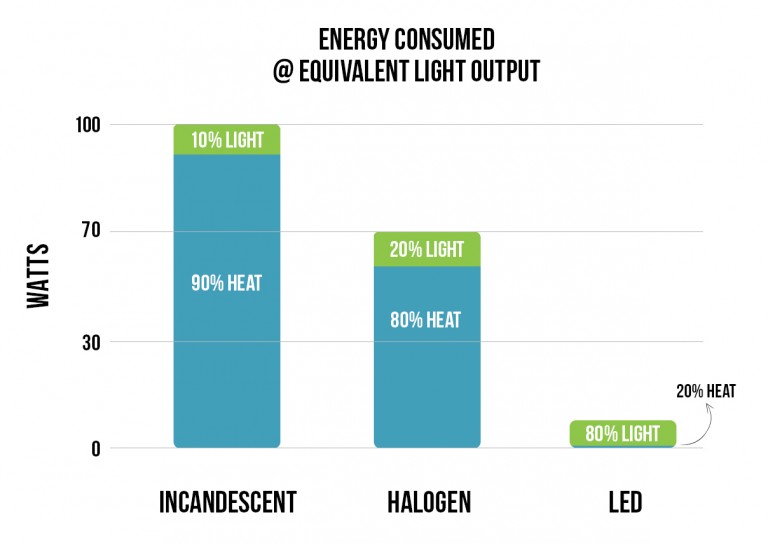 Nobody likes fires. In fact, they can potentially ruin your life or business. As you may know, Incandescent light bulbs can cause dangerous fires if they are not used correctly. In addition, older types of bulbs can contain mercury or other hazardous materials that may leak if a bulb is broken. Thankfully, not only are our lights LED, but our T5 and T8 Linear LED tubes are shatterproof, so you don't even need to worry about glass!
Different Types of LED Lighting
Commercial LED Lighting
This type of lighting is perfect for warehouses, processing plants, manufacturing facilities, gymnasiums, sporting venues, big-box retailers, and other large spaces. If you have a high ceiling, then this is the type of lighting that should be used. Our LED high bays are full-body, premium-performance LED luminaires. With a painted, steel housing, our LEDFHB series provides high levels of durability and performance. High-efficacy, long-life LEDs provide both energy and maintenance cost savings compared to traditional, HID high bays.
As we mentioned earlier, our area lights, like the MPAL series, are durable, long-lasting, and suited well for athletic fields, schools, parking areas, pathways, building facades, loading docks, and a wide variety of other large, general site lighting applications. We installed these lights in our parking lot to deter burglars, because trust us - they are bright! Multiple mounting options make the LEDMPAL a versatile luminaire for flood lighting, pole-, ground- and wall-mounted area lighting, and other outdoor lighting requirements. These lights have some of the highest L70 on the market, coming in at 372,000 hours! This could be the last light you every replace.
Flat panels are designed to deliver general ambient lighting in a variety of indoor settings, including schools, offices, hospitals and stores. Available in different color temperatures, our fixtures are sure to outlast the competition. Our DLC Premium Flat Panels are ultra thin and support 0-10v dimming. They have an acrylic lens with light guide panels for optimal light distribution and efficiency.

Residential LED Lighting
Recessed & Edge-lit LED Downlights can be placed in the kitchen, bathroom, or living room. Choose from fixed or selectable color temperature. Our selectable units allow you to choose from five color temperatures with one convenient switch, right on the job site. The improved half-inch profile design is approved for IC and non-IC applications. Quick-connects and the remote J-box offer easy installation. Extension cables and frame-in kits allow for versatile applications in new construction and retrofit projects.