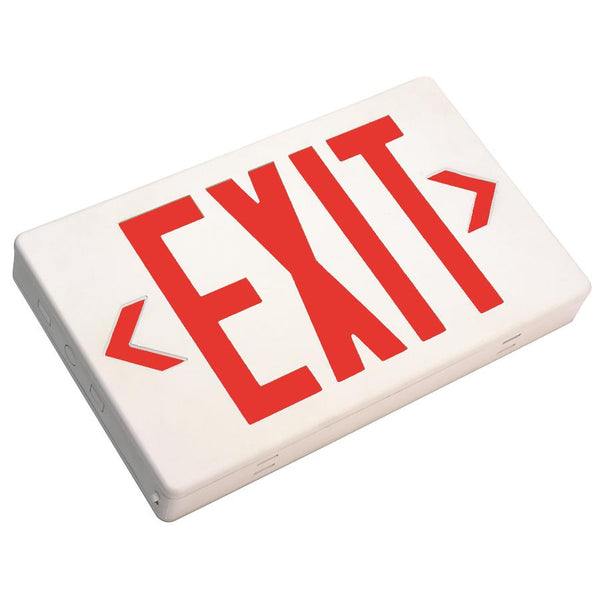 LED EXIT Sign - Battery Backup
Product Description
Slim and low-profile LED exit sign provides a crisp, clean look and excellent energy savings.
Illumination
Ultra-bright, energy efficient, long-life Red or Green LED.
Electrical
Dual 120/277 voltage.
Charge rate/power "ON" LED indicator light and push-to-test switch for mandated code compliance testing.
4.8V long life, maintenance-free, rechargeable NiCd battery.
Internal solid-state transfer switch automatically connects the internal battery to LED board for minimum 90 minute emergency illumination.
Fully automatic solid-state, two-rate charge initiates battery charging to recharge a discharged battery in 24 hours.
Mounting
EZ-snap mounting canopy included for top or end mount.
Universal K.O pattern on back plate for wall mount
Housing
Injection-molded, engineering-grade, 5VA flame retardant, high-impact resistant, thermoplastic in white or black finish.
EZ snap-out chevron directional indicators.
Compact, low-profile design.
Options
SDT: Self-diagnostic feature performs monthly, biannual, and annual tests to ensure reliable operation and meet electrical and life safety codes.
2C: Dual circuit option on the AC-only unit enables it to be connected to two different (one acting as a back-up to the other) supplies at the same time.
Custom: Signs available with requested 'special' wording.
USA: Substantial transformation assembly in the U.S. complies with "Assembled in the USA" under the Buy American Act.
cULus: Units tested to meet requirements of CAN/CSA-c22.2 No. 141-02 standard for unit equipment.
Warranty/Listing
Five year warranty on all electronics and housing. Battery pro-rated for five years.
Meets UL924, NFPA 101 Life Safety Code, NEC, OSHA, Local and State Codes.
UL listed for damp locations (0°C – 50°C).
Features:
Completely self-contained.
Fully automatic operation.
Compact, low-profile design in neutral finish.
Push-to-test sitch.
Automatic, low-voltage disconnect (LVD).
120 or 277 VAC operation.
Injection-molded, V-0 flame retardant, high-impact thermoplastic housing.
Charge rate/power on LED indicator light.
Energy consumptionof 3.2 wats for red letters and 2.8 watts for green letters.
LED lamp life of 25 years plus.
Listed for damp location.
Universal mounting canopy for side or top installation.
Standard AC and emercency (EM) units.